Below you'll find the projects I have in various stages of completion. I'm generally working on 1-2 books at a time, and tend to release a novel every other month.
---
12 Weeks to a Trilogy (In Progress)
12 Weeks to a Trilogy is a new project which entails writing a sci-fi trilogy sequel to Void Wraith in a total of 12 weeks. This project is documented via a series of videos, which describe the progress each week and give more information about specific aspects of the project, such as cover art, characters, world building, scheduling, and more. View the videos and follow along on the Chris Fox YouTube Channel.
Videos:
---
The Great Pack (Released on Amazon, Audible coming soon)
Set has been vanquished, but victory demanded a bitter price. The First Ark's detonation flung the new Ark Lords five years into the future. They emerge into a world ruled by deathless, demons, and old things that have awoken from the sleep of ages.
Hades and the mysterious Grey Men have paved the way for the return of the Builders, slowly conquering the world. Only one part of their plan remains, seizing control of the Proto-Ark rumored to lay somewhere deep in the Amazonian jungle. Hades sends his demonic enforcer, Nox, once known as the Director, to claim their prize. If they succeed, the invasion of the Builders will finally begin.
Only the trio of returning Ark Lords has a prayer of stopping Nox, but they face problems of their own. Blair and Liz arrive in Northern California to find Angel Island deserted, and San Francisco controlled by a kingdom of deathless. Jordan and Trevor return to Peru where werewolves have founded a new religion worshiping the Mother. A religion that preaches that Trevor is the ancient enemy and must be destroyed. Only Jordan can save him, if he can finally learn to trust an old enemy.
Win or lose, the Builders are coming. They need an army. They need The Great Pack.
Buy your copy today on Amazon.
---
Relaunch Your Novel: Breathe Life Into Your Backlist (Available for Preorder)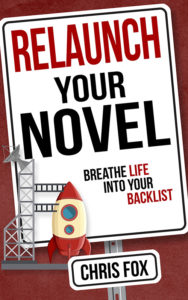 Breathe life into your backlist
Have you launched a novel, or many novels, only to have them land with a whimper? Have you had a great selling book or series slowly fade away to obscurity? What if you could relaunch those books, turning your backlist into a great source of income?
You can. This book will teach you:
How to analyze your previous launches to determine failure points.
How to turn your backlist into an automated system that feeds readers back into your other books.
What types of relaunches exist, and which is right for your book.
How other authors have successfully relaunched. What worked, and what didn't.
Preorder on Amazon now.