Six Figure Author, book 5 in the Write Faster, Write Smarter series is now available on Amazon.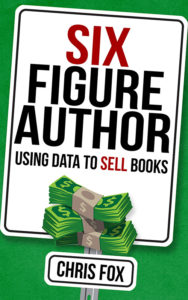 Sell Books the Smart Way
Five years ago releasing a book as an indie author meant uploading it, then begging everyone you knew to buy it. That method simply doesn't work anymore. Fortunately, there's a better way.
Amazon has spent billions of dollars over the last decade building the world's best sales engine. They use machine learning to sell massive piles of books, and that engine is just waiting for you to tap into it. This is the book that will teach you how.
Ready to become a six figure author? You'll learn:
Why a sale isn't just a sale. Who you sell to is more important than how many.
How to find your target audience.
How to train Amazon to sell for you.
Buy Six Figure Author on Amazon
Six Figure Author Released on Amazon